Sunday 4th December 2016
The day did not look promising and the forecast was worse. I was heading north with no clue where I may end up that night. I didn't really experience much rain for the first few hours, however,  I was always riding on wet roads. I'm thinking that I had timed my departure just right. That thought evaporated the further I went and the rain started getting more persistence. I even stopped and put on my jacket. I thought, I might as well just keep on riding, I wasn't going to do any sightseeing or basking in the sun on some idyllic beach today. When I reach Nakhon around 1:30 in the day, I was pretty wet. I was about to get even wetter. Along the way I could tell there must have been a lot of rain overnight as along the side of the road and the road itself was well inundated. Kids were playing on rubber inflatable toys in their front yards. Guys were throwing out fishing nets along the side of the road.Don't know what that was about. When I hit the main drag in Nakhon, I also hit wall to wall water. Traffic was still moving in both directions and it was getting deeper. I wasn't till I saw some bike riders who I knew to be ahead of me coming from the other direction that i figured all the traffic coming from the other direction were probably those who had also turned around. I reached a small bridge which was above the flood level and stopped to take stock. I wasn't sure the bike or me would be able to negotiate any deeper water. So it was my time to turn around, hopefully find a hotel and wait it out. What I found was probably the most welcoming an tastefully designed and decorated hotel I have stay at thus far. I didn't mind being stuck here. In my room I tried to find more on the weather forecast. I would seem there is more to come so who knows what my movements will be tomorrow. Sleep is my next trick.
Monday 5th December 2016.
When I woke this morning this morning it was still raining a bit and totally overcast. I was on the net trying to find something about flooded roads, weather forecasts etc so I could decide my course of action. First things first, shower and breakfast. Great breakfast in the delightful dining room. By this time, the rainfall had increased enough to decide that I was staying, I think the nice breakfast helped. The rain I can handle, flood waters I can't. I'd rather be stuck here than in the middle of nowhere.
I had to head off, on foot, and find the bank to pay Ms Thip for the Thai permit. I knew I had kept the poncho for a reason. By the time I reached the mall, 500meters down the road, it was raining cats and dogs. The bank didn't open till 11:00am so I hung about in the mall. I found a new sim card for Thailand and for something else to do had an ice cream. Transferred the money to Ms Thip and waded back through the flooded roadway to the comfort of the hotel.
Tuesday 6th December 2016
Reluctantly I forced myself to leave this luxury. The rain had eased and the water seemed to have receded a bit around the hotel so it was back to the road which is alway out there waiting. I hoped the flood waters had gone, but no, the main road through town was just as flooded. I pick on a road which ran parallel a bit further from the coast thinking that may be OK. It was better, although still flooded but not for a far. I made it to the other side. I managed about 50kms before the thunder and rain started again. Stuff it… all my gear I had dried out during my lay day. As the day progressed it just got worse.While wet weather gear is normally OK in short spells eventually it fails around the edges and capillary action comes and you are wet outside and in. Had to go through many flooded roads, some manned by police, most not. It's those cars and trucks coming the other way that drown you. It's like someone has thrown a bucket of water over you. At one stage I diverted off the main road as I was sick of the trucks and the spray they produce. It was getting a bit freaky. I stopped for a break in a small town and eventually found a lady to give me some coffee. I was also soon presented with a couple of pork dumplings. Very yummy.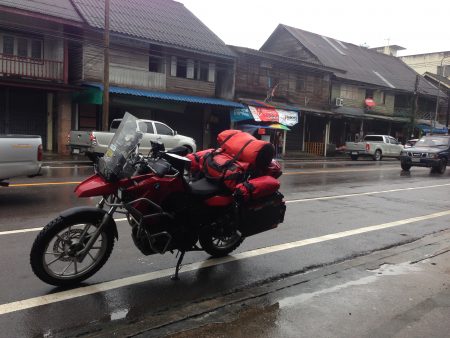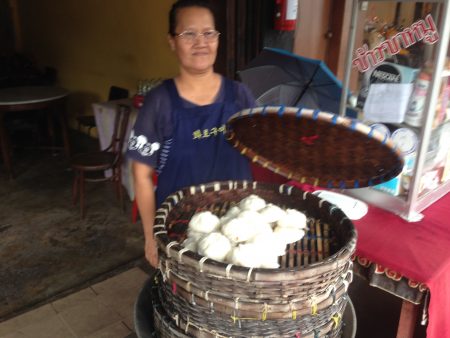 Despite the rain I managed to keep on riding. Couldn't get any wetter. Eventually it was time, the next available accommodation would be it for the night. Saw a little place with separate bungalows and checked in. Lack of any Thai was a problem. So was the TV which boasted 100 channels, not one in English. Plus despite having WiFi it would connect. Luckily my hard drive had one movie on it that I hadn't seen. With all the humidity, none of my gear was going to dry out before morning. Dinner was a choice of cup of soup or noodles from a packet. One good thing was that there was beer and coffee.
Wednesday 7th December 2016
Woke up to more thunder and pelting rain. I wasn't going to stay in this, no wifi no TV I could watch, bungalow. All my gear already wet so I just had to go. I knew the weather further north was drier and my goal for the day was to find it. Rain lasted for a couple of hours and then dry roads. I made he most of it and on boring flat, straight highways, I clocked up nearly 400km before arriving a Ratchaburi. Not a lot to say about this place, very uninspiring.
Thursday 8th December 2016
A day of no rain. The road to Ayutthaya was 10 lanes wide and total strip development. Boring as bat shit. Found a hotel in the middle of town and settled in. I wanted to stay a couple of days to explore the old capital of Thailand.
Friday 9th December 2016
This is some of what I found. I explored Wats all day but only managed about 5. The town probably has 4 times that but a wat is a wat is a wat. Some were ruins most of which were destroyed by the Burmese many centuries ago. Some were still in use with newer additions.The whole place is pretty fascinating probably I found it so as we don't have such antiquity in Aussi.
Saturday 10th December 2016
Mounted the bike and headed for Kanchanaburi and the location of the famed WW11 Thai Burma railway. I arrived in the early afternoon and pulled up at the war cemetery in the middle of town. I then proceeded to the site of the Bridge on the River Kwai. I don't know why I always seem to arrive at these attractions on a long weekend. There were so many people and so much going on that I couldn't even get close. After being stuck in the log jam for some time, I gave up and retraced my steps  to the main road. Next on the list was the Hellfire Pass Museum and walk. This turn out to be 80kms up the road. Nice ride up the valley into the National Park. I found it, however, the day was drawing to a close and the Museum would soon close. I started looking for somewhere to stay. This proved painful. Due to the long weekend everything was fully booked by bus loads of trippers. Eventually I pulled into a resort. Places I would normally never go. This turned into the most expensive night ever. It was very nice. The only room available, or so they said, was a 4 bed 2 bathroom monstrous room.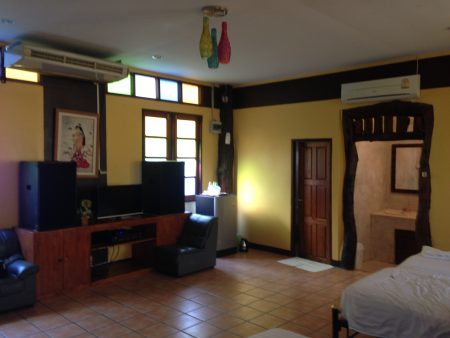 The grounds and the lodgings were interesting. Even had a beach on the river. Just lots of people.
After a fine breakfast overlooking the river Kwai, I headed back to the museum. I overshot by about 5 km before realising my blunder and went back up the valley. Thais don't feel it necessary to include English in their signage so it can be somewhat of a mystery tour. Anyway I got there.
The museum itself was very well done. Although not a lot of relics are on display, the visual and audio detailing the construction of the railway and conditions under which the POW's were subjected was very graphic. I then proceeded down the well constructed walkway which took you to the railway pass itself. All built by hard hand labour the railway took a huge toll of lives.
You can read more of the story :-http://edition.cnn.com/2014/11/06/travel/hellfire-pass-thailand-wwii-museum/
Sunday 11th December 2016
Fairly uneventful day. Started with a few pics and a roam around the grounds of the resort. Great breakfast. Hit the road as I wanted to get closer to Chiang Mai. I rode back down the valley and then cut across to the main highway north. So I was away from the nice hill and scenery and back to the multiple lane highway, strip development along pretty straight and flat roads. The speed limit is supposed to be 90kph, but with me sitting on the 100 mark other cars were passing me at around the 150 mark. With it still being the long weekend, when I checked the online hotel booking sites everything was saying it was booked out. Of course it wasn't. The hotels like to be able to charge whatever on long weekends so they say they are full. Doesn't quite gel with me, but that's Thailand. So by late afternoon when I pulled into Suphanburi I looked about for high hotel looking buildings and spied one not far off the highway. It was a good one and half the price of the previous night's "resort" and it was virtually empty. So when it came to having a beer in the evening, I shared the lounge bar, which was probably a good 200 sq meters, complete with huge LED lit Christmas tree, with nobody except the very bored bar-girl.
Monday 12th December 2016
After another rather boring ride across the plains of central Thailand on high speed roads, I called it a day by the time I had reached Kamphaeng Phet. I had along the way, as was often the case, pulled off the main drag to get off the bike for a while and have a drink. At one of these stops I came upon a beautifully maintained parkland on the river. It contained several temple ruins and was very calm and peaceful with nary a soul to be seen. These temple ruins can be seen all throughout Thailand and seem to hold great significance for the Thai people. That night I found a small "resort"  which was pleasant enough. This time the rate was down to a third of the previous nights luxury hotel rate. Needed to get back on budget.
Tuesday 13th December 2018
At least I am away from the rain which is still falling in Southern Thailand. The road north was more of the same. For the most part flood plain with the occasional hill. Mostly broad acre rice farming before I came to some hilly country again. Normally when I get down to 100 km worth of fuel in the tank I  fill it up. Today when I got to that point there was no petrol stations to be seen. Usually the petrol stations are everywhere. Not this time By the time I got sown to 40 km int he tank I had severely reduced speed try to conserve petrol. I was going to stay at Lampang, which is a bit short of Chiang Mai, but my petrol wouldn't last that long. When I came to an Intersection I checked the Garmin to find out where the closest petrol might be. It wasn't in the direction I was headed but in the opposite direction toward Phrae. So I looked like I was staying in Phrae that night. Found the petrol station with just 15kms showing on the petrol indicator. Being a long weekend accommodation was at a premium, however, I booked a "resort" a bit on the other side of town that I could stay in. Finding it proved to be a problem. Navigating through big towns and cities is a bit hard for google and me, When I look back at some of my Garmin tracking logs it's like someone has been doddling, plus all signage is in Thai which of course doesn't use the roman alphabet, and my keyboards cant write Thai. After doing my usual thing of going around in circles, it was getting dark and I was getting infuriated,again, I ventured to ask a man in his driveway if he could help. He straight away rang the "resort" to ask directions and I was on my way. This was way short of my definition of a resort. It must be a trend to call every establishment with a bit of garden around it a resort. It was cheap though. Had my own stand alone cabin with a deck over what appeared to be a moat but was probably just a drain. The staff were friendly and they managed to find some basic food, rice and omelette, for my evening meal.
Wednesday 14th December 2016
So off to Chiang Mai in the hope of extending my Thai visa. My 15 day visa expired in a couple of days, 18th. A few hours ride and I would be there. Chiang Mai was not how I remembered, didn't recognised anything from my previous visit. Mind you it was a long time ago and I arrived by train at that time only to be wisked away to a guest house in the old city. This time I couldn't find the old city I was concerned with finding a reasonable hotel. The highway hotel when I found it was it. Did I tell you I don't like trying to find my way around cities. This was OK till tomorrow then I would find something else. I had to find the immigration office.
Sometime  during the morning I received the next bombshell in this struggle to ride to Europe overland. My agency I had booked the crossing of Myanmar sent my an email to inform me that all convoys through Myanmar had been cancelled due to unrest at the border crossing to India. My crossing could not happen at least until February. My thai permit to ride my bike in Thailand expired on the 2nd January.  Many expletives were uttered, no shouted, at this point in time.
First things first, I had to renew my visa, tomorrow. With things going sideways on me I wasn't sure this was going to be a walk in the park either. I spent a bit of time that night checking out possible alternatives and putting out a cry for help on the Thai vehicle permit Facebook page.
Thursday 15th December 2016
I wanted to get to the immigration office early, mainly to solve that problem and have that behind me, then I could concentrate on the Myanmar crossing problem. The office wasn't too far from the hotel so I managed to get there around 9:00am with all the necessary documents and the 1900baht required. I find it strange that I could get a visa for free at the border but to extend it, 1900Baht. Another odd thing, had I flown in to Thailand I would have got a 30 day visa free. Yet another oddity was the they issue me with a vehicle permit for 30 days and a visa for 15days. Makes sense eh?  Yet another, your original visa requires a normal passport sized photograph. the extension requires one 50% larger. Photoshop at the adjoining the immigration office does a roaring trade. I filled in my A7 form, and stood in the very slow moving queue at the desks set uo outside the office for a good hour. I then had to wait until 12 noon inside the office to to eventually receive my visa stamp for another 30 days. 15 days more than I needed. I think the staff must have been on a go slow day. I've seen snails move faster than these guys. Mine was the last passport to be given back before they all knocked off for their lunch break. Whew… there was a visa stamp in it. At least that bit was over even if it did take 3 hours. I spent that afternoon visiting not one, but two offices of the department of Transport. Unbeknown to me there is a separate office for motorbikes, needless to say, some distance from the main office. The staff went to a lot of effort trying to help. Read up on all the latest edits to the legislation. Discussed it at length between themselves until finally deciding that I would need to ride back to Bangkok and the main office in order to get a ruling. Well that was a lovely waste of time. I seem to be having that problem with bureaucracy.
I had booked a better hotel, I needed some pampering and good wifi. This hotel was a bargain 50 baht more than the previous night with twice the value. The Poon Petch Hotel also included buffet breakfast. So then it started. Trying to figure out what the f##k I was going to do. First was to check out with the Myanamar tour office to see if I could get the bike into Myanmar and just wait around till convoys were resumed. No, was the reply. Can't get across the border without a booked convoy and they had all been cancelled. So in this case it was a matter of "the president says no". My brain, not great at the best of times, was going into meltdown. I ordered a very nice green Thai curry chicken and a large bottle of Chang beer from room service and blogged out in front of the overly large flat screen TV. My day, as far as thinking of solutions, was over.
Friday 16th December 2016
I wasn't going anywhere today, I had to explore my options. Plus the fact Chiang Mai was having an out of season rainy day. Just when I was going to have some laundry done as well. I had a massive response to my cry for help. One lovely lady have contacted my tour mob in Myanmar asking about convoys and was told that a convoy was still on for February the time when she was wanting to cross and that a convoy had started the day before. i had the alternative of airfreighting my bike out of KL in Malaysia to Chennai in India for $1000. KL was more than 2000 kms away and back into the wet. I didn't think I could or even wanted to do that. Search for others. Tried to contact suggested other tour operators in Myanmar without any replies. Thought I may be able air freight out of Chiang Mai, but that was a no go. Could do Bangkok to Kathmandu but flights only went once a week and with the time to get there, crate the bike and go through all the documentation and required time it would take, that turned into a no go also. I ended up emailing my tour operator with the info I had received about a convoy leaving two days previous. An hour or so later I received back an offer that they  could give me a private crossing at a reduced duration, 12 days down to 9 days and of course at a great increase in cost. They had me between a brick and a hard place. I asked for an itinerary and once I had received that agreed to the deal. All the other options were turning out to be too hard and even too uncertain. What is it the rich say, "It's only money". Time was a bigger enemy that money at the moment. I was even exploring what was involved in turning around, giving up and going home. Solve a lot of problems. All that took up the whole day. Not how I envisioned my time on this journey being spent. Anyway I had a possible solution, unless that turns out to be no go, and if it does I am really up the creek, I have other things to do. Like find out where my second passport with the Pakistan visa has gone.
Saturday 17th December 2016
With the weekend came a massive increase in the nightly accommodation rate at the hotel. Had to find another. Also today I wanted to go and see my old mate Stewart, out at Mae Rim. After a few more emails etc, I packed my gear to head for Stew's place. We meet at the Police station, which was easy. His wife runs a small convenience shop down the road. We hung there for a while before he took me to the local "mall". This was a few streets with trendy shops and restaurants. It also had a "food hall" which supplied cheap eats for the common people. That was us. Next to Stew's wife shop I renewed my phone battery and got a new case. Around three the sky was looking ominous, time to go. Found the guest house "Big Happy House". Good price and comfortable just a bit more out of the way. I managed to walk to the local eateries get a feed and some munchies and a bit for breakfast. This is a bit boring eh?
Sunday 18th December 2016
I wasn't going to sit around Chiang Mai till the Myanmar Crossing  was on, and I had read about the "Mae Hong Son" loop. A must for motorbike riders. So I, being one of those, thought I'd go try and enjoy myself for a couple of days. I rode north thinking I would do this ride slowly and stay my first night at Pai 80 or so kms from Chiang Mai. Now Pai is one of those localities that is close enough to Chiang Mai to be accessible and with plenty of touristy type attractions to make it really popular with the younger generation. Here they could hire little bikes and ride around the hills to their hearts content. I couldn't  have realised just how popular this activity was until I stopped a the only large servo in town to fill up. I was probably there for a good hour drinking my coffee and eating my custard filled pastry. There wasn't a time during that hour when there wasn't at least 3 or 4 little touristed bikes, all bright and bushy tailed, lined up at each bowser to get their couple of litres of benzine. I wasn't going to join into this circus, so I decided to push on to Mae Hong Song further toward the Myanmar border.
What a bloody great ride this turned out to be. Hills, curves and good roads with little traffic. 100 or so Kms of bliss. There were a few more adventurous of the backpacker set, who had risked travelling further afield, but they became sparser as the journey progressed.
I hadn't booked anything before arriving in Mae Hong Son and when I tried I couldn't get any connection. I called into the second or third hotel I came across. This town is also a popular destination for the higher end tourist I think. It was definitely reflected in the prices they wanted to charge. Back on the bike I cruised a few of the back streets until I found the Mae Hong Son Hotel. More a motel, however, the price was cheap and the room more than adequate. Shortly after arrival I was presented with a huge plate of home grown Papaya and a couple of bananas.  A few other caucasians, a couple from Germany, an Italian, and a Swiss gent had also found the same lodgings. We didn't get to talk much as they knew little English and my French and Italian are history. Come nightfall I walked down to what you might call the main street, found a thing on a stick (barbecued flattened duckling) a few more muchies and retired to watch a few movies online. The TV in Thailand tends to concentrate on Thai programmes, which is fair enough, but then there is a good amount of Chinese content channels as well. That tell you anything.
Monday 19th December 2016
Being in this part of the world I just wanted to look around a bit. So today I went in search of the "long neck people". I found several villages out along windy, paved, tree shaded narrow roads. Crossing back and forth over river crossings. Just a nice sweet pleasant ride. Covering quite a few kilometers. At one point I reached the end of the road, where across the suspension bridge was so sort of park like area with a few buildings, however, all the signs were in Thai. The few locals that were about didn't approach me asking if I  wished to pay to go over the bridge to look around, so I figured it must be some sort of government establishment.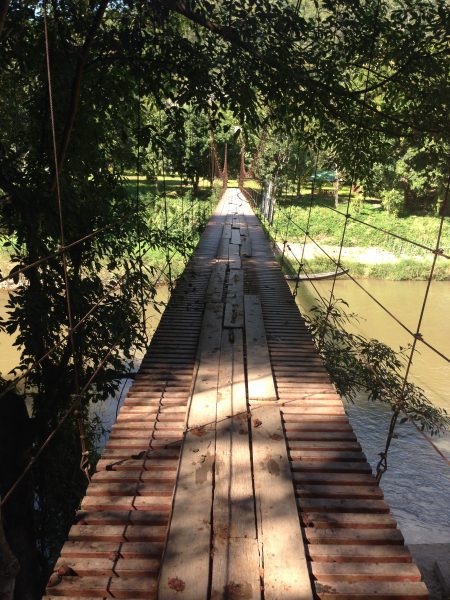 After a short break I turned around and went back to enjoying the ride. Up another road I came to a village where a guy did wave me down telling me I had to pay him some money to see these  "long neck people". The place didn't look very legit to me so a brushed him off and rode on through what seemed a very poor village encased  in the smell of pig shit. The further I went the narrower and steeper the road became with no place to turn around and no more habitation. Eventually the road flattened and I managed a six point turn, all I had to do now was get back down the hill, an exercise I like a lot less than going up.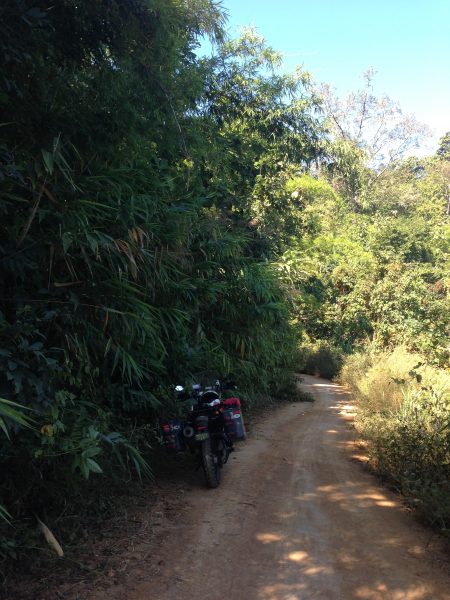 Finally on the way back to town, guided by another sign, I turned down a track which took be to a river crossing only to find the Italian from the Hotel, Alex, who had just returned from the village across the river. He had paid the fee of 220Baht for the privilege. His response to my question as to whether it was worth came back in the negative. So that was enough for me. I had seen "the long necked people" on a previous trip. That would do
Back in town there was one of the most gaudy wats I had seen, so I checked that out.
I keep forgetting to have lunch. Probably why I have lost 6 kilos.
Monday 19th December 2016
I would have liked to stick around Mae Hong Son for a while longer, however, I wanted to get back to Chiang Mai in case there was some hold up on the passport arrival. So after a late start and being clued up but the Italian on some of the best rides in Southern Europe, I was on my bike and heading south. Today was an easy ride to  Mae Sariang. Once again it was a lovely day for a ride and I cruised along the windy road through river valleys and over hills. It a pleasing part of Thailand to be in. After a side of the road check for accommodation I came up with a little place just outside of town on a small property, this was nice. Nicely kept surroundings of lawn and hedges, fruit trees and flower gardens, with concreted canals and fish laden dams. The accommodation was in self contained bungalows. The one reserved for me was clad in bamboo with all the mod cons. The owner was still involved in building extra bungalows in his own piece of heaven on earth and the female garden hands were constantly at maintaining it. I was the only guest that night which felt like a shame.
Tuesday 20th December 2016
I was heading for Chiang Mai but I wasn't sure which route to take. I knew I didn't want to ride a few move mountain roads. I choose to go east towards Chomp Thong. Another great ride along curving roads. I was shadowed by a by a couple of other bikers. We all pulled into the same sevo an Aussi chap introduced himself. He lived in Pai and rotated to Western Australia with a job in the mines, on an 8 week on and off, and had done so for the past 10 years. His mate had joined him this time for a bike riding holiday around northern Thailand. They were having fun. Didn't get to Chomp Tong. I inadvertently found myself on the road to Doi Inthanon. At that time I was not aware of its significance. I know Doi meant mountain so that meant hills and winding roads. Not sure I wanted this many though. I was a good 85 kms to the top. I think the last 30 were all uphill. 1st and 2nd gear all the way. Great fun.
At the top there were all these tourists and vans, cars and motorbikes and I was sure they couldn't have come up the road I did. Anyway despite my not wishing to mix with them, all I hung about and did the tour. Bloody cold up here though.
Had some problems finding a place to stay near Chiang Mai that night. With Christmas just around the corner accommodation is getting hard to find. It was dark by the time I booked in at a highway motel.
Wednesday 21st December 2016
Today I had to find a currency exchange in order to get some US dollars to use in Myanmar or at least exchange. It seems Australian dollars aren't good enough. I knew I could go to the airport which wasn't too far away. One the way I came across a large plaza complex which I knew would have some banks, easier parking than at airports. When I pulled up in the parking lot and parked in the "big bikes" area, I just happened to notice a smear of oil emitting from the rocker cover. Bugger, this was the the sign I had of anything amiss with the engine of the bike. I checked the banks for US dollars but they didn't have any even though they all displayed currency exchange. So it looked like a trip to the airport. On my return to the bike I meet Jeorg just about to climb onto his F800GS. He just happens to run Motorcycle tours through countries in SE Asia. I the course of the conversation I asked about BMW dealers. He informed me that I would be better served by going to the guys he used. I gave him my email so he could send me the details. Don't know how these people seem to just pop up at the right time. Perhaps there is some sort of director out there. I reluctantly proceeded to the airport and it's jam packed parking lot. To get to the currency exchange I had to through a security screening. After trying a few exchanges I managed to find one who could give me US dollars. So I managed to exchange my Aussi bucks for US bucks. The time these  little chores take tend to stuff up the whole day.
The thai postal tracking service had finally shown that my second passport had surfaced in Thailand and was on it's way to Stewart. This meant that I too should do the same. Stewart is a friend from way back in the days of my working in the community youth help service. Now lives in Thailand with his beautiful wife. So I headed out to Mae Rim where he lives and where I had booked that night's rest. Stew had informed me through the day that he had arrived home to find a Post notice in his mailbox. It would be here tomorrow. Made arrangements with Stew to meet up the next day. The place I stayed that night was relatively new and nice. But it was like a few of my previous lodgings in that it is or was built as a permanent stay place. I'm not sure if it is because they have not managed to attract enough permanents or if they purposely leave a few rooms for casual booking guests like me. Whatever it is the room is always up about 3 floors and there are no lifts and of course no porters. Just what I need at the end of the day, should have packed lighter.
Thursday 22nd December 2016
I checked out as late as I could after tightening the chain on the bike, checking oil and water. Having cleaned the oil off the engine I also wanted to check if it was OK. I feel that the ride up the Doi Inthanon was the cause. All that prolonged uphill low gear riding may have kept the engine at too high a temperature for too long. Shouldn't do, however, I have since read that that the rocker cover gasket is a bit of an issue on the 800 twin engines. Need to do something about it. Crossing into Myanmar on the 29th and a weekend in between doesn't allow a lot of time.
I was to meet Stew at his wife's little shop. He had texted me that he now had the passport in his hands. One less thing to worry about. For a  person who likes life to be hassle free, this trip is forcing up my stress levels. Went to the shop and checked the passport and there it was, the passport complete with the Pakistan visa. Whilst most visas a cheap the cost of acquiring some of them can be very expensive.
Friday 23rd becember 2016
After a lengthy lay in and computer research on motorbike repairs and whatnot, I headed off to Stew's shop. Spent the afternoon chatting. Tried to get a haircut, but of the 3 or 4 barbers we checked they all had quite a few customers lined up. No haircut that day. That was pretty much it for that day. Every day it's a struggle to find food, especially food that I am game to eat. The 7 eleven shops have come to my rescue. They have a range of sandwiches, cakes, toasted sandwiches and microwaveable food packages. The good thing is that they cook it for you on the spot. So at least, although not my preferred choice of cuisine, it is keeping me fed. I top that up with juices, fruit, biscuits and chocolate.
Saturday 24th December 2016
Today I met up with Stew around 12 as he had a bit of teaching to do in the morning. We going for a ride on the bike to a few less frequented places. The first was to Wat Del Sali a bit north of Mae Rim at Amphoe Mae Taeng. This, I feel, was the best temple complex I have ever seen in my travels through Asia. On a very large elevated site overlooking the pastural lowlands with the hazy mountains as a backdrop. This temple complex consisted of multiple temples and stumphas from many generations and of varying sizes. What got me was despite the age of some of the early timber temples they were all in an immaculate state. The detail, be it in design, buildings, carvings, sculptures, hand painting, mosaics, brass filigree, garden design and maintenance all done with such care and devotion.The time it all must have taken initially and the ongoing care and maintenance in almost beyond belief.
The photos really don't do justice to this amazing temple. I could have taken photos for hours. Just so much detail and craftsmanship has gone into every aspect of this temple.
Stew then took be to show me the school at which he teaches English and in the process passed through the annual flower display put on by the local council. fields of various shades of Marigolds. And that was my Christmas eve. Nice.
25th December 2016
Christmas day…A non event in Thailand. A so it was for me. No Presents, no massive gastronomical delights….oh well…bit of good and bad in that. Sat about for a while and around lunchtime I found myself at Stew's shop and we went around to have a look at his house and have a couple of beers. The bike got a Chrissy wash. First one since Surabaya, so it did need one. So that was about it for Christmas.
Monday 26th December 2016
One of those fruitless days of searching in a city. I needed to find out how serious my rocker cover gasket leak was and what to do about it. I had been given the address by Jeorg, well co ordinates really. So with those  entered into google I rode the 20kms and found nothing. I then tried the address on facebook but when I arrived at that one, nobody knew of the bike shop,s existence. I found yet another address and explored that one, still no luck. I then had another go at ringing the shop. Finally got through and was told that address was his old address and he had moved. He gave me his coordinates. After another 15 minute ride I ended by at the same place Jeorg had given me. Needless to say, no bike shop. After cruising around in the vicinity for a while, I tried to call the shop again and again, only to get some person speaking to me in Thai presumingly asking to leave a message, which I did. Hung about for a while waiting for a call back, It never came. OK another option was to go to the BMW dealer. Arrived there 15 minutes later and after being warmly greeted by the floor staff, I got to talk to a very surly "engineer" through a third person. They didn't have the parts and even if they did they were too busy. I requested an oil change by that too was not going to happen. This process had taken all day and I was not a happy camper. The oil leak was not getting any worse so I was just going to have to monitor it. I had to be at the Myanmar border in two days, and that was that.
Tuesday 27th December 2016
It was good to be back on the bike and going somewhere. I had planned to make it an easy day's ride just following the main road back to Mae Siarang. So easy I didn't bother to set the navigation. Whether it would have may a difference I am not sure. I found myself heading back up the mountain to Doi Inthannon. At that point I figured I had taken a wrong turn so I put my destination into my Garmin, It was OK I could still go this way and the roads were way more hilly and fun. When I got to the national park entrance I checked with the officers there to make sure I was on the right road. Yep, just turn left in 50 meters. I found myself going down the long and windy and steep road I had originally come up. Not as much fun going down. Eventually I arrived at Mae Chaeme, unfortunately, I had missed a vital acute Y intersection just beforehand and Garmin had rerouted. Garmin and google maps, as there do, then gave me a different shortest route to Mae Siriang. The road went from being 2 lanes to one and proceeding up at an ever inclining incline to become 2 concrete tracks, to being partial concrete tracks with wash aways one either side. After 15 kms I was really concerned that if this continued I would not make Mae Siriang before dark. Discretion being a better choice than valour I stopped at the top of the hill.
A couple of utes passed going the other way and I managed to get from them, with much sign language that the best way to where I was going was to turn around. The thought of going back down that hill was nearly as freaky as going on. I turned around from whence I had come. Pulled into a servo back in the town to check the direction and off I went. I still had 121 Kms over windy run to go and it  4pm. Once again it became a nice ride and I would get there just before dark. Made it just on dusk.
Wednesday 28th December 2016
Thankfully today's ride was a breeze, just had to follow my nose down highway 105 to reach my destination of Mae Sot. My last day in Thailand. Beautiful ride along the roads through the mountains and following river valleys till about 50 Kms from my destination where the road turned back onto flat alluvial plain country. I had really enjoyed the roads and the scenery and the cooler climate of Northern Thailand. A beautiful part of the world, especially for for motor bikers like me.
Thursday 29th December 2016
I had a short 15min ride to the border. I had to meet my guide at 8am on the Myanmar side. I got there pretty much on time. After sitting around, waiting and going from this window to that office, It was done and my guide turned up to take me through the Myanmar formalities. I really was so relieved that after all the crap that I had to get through, and to actually be at this point of entering Myanmar was wonderful.