29th December 2016
We had a long way to go in order to reach out first nights rest. the contrasts between Thailand and Myanmar soon became apparent once on the road. The lack of every road safety device had disappeared. The road which was promoted as being an improvement on the old road was now 2 lanes but in very poor condition. Roads are constructed by dumping piles of larges pieces of granite on the side of the road. These are then broken down by hand into smaller pieces. Graded by size into smaller piles. the roadway is then "levelled" with mattocks and the first layer of the larger rocks are laid down by a team of mostly girls placing each rock one at a time using a string line about 3 meters long. Some sand is used to fill in the gaps. The process is repeated with a layers of smaller rocks. This this then rolled and a layer of bitumen applied with a final layer of crusher gravel. This results in a road, although paved, is a rough a all crap.  Just shakes you and your bike as if you were riding on a corrugated gravel road. So I was very stuffed by the time we reached Kyaik Hto and home of the Golden Rock, 278km and 7 hours later. We very quickly booked into the hotel and headed for the "bus station" in order to get the last of the transportation up to the rock. This was a matter of squashing into the back of a truck 7 people across and in about 12 rows and siting on the very narrow pew whilst the truck hurtled up this very steep and windy road flat out for about 40 minutes. Bit like the thrill you might get in a rollercoaster ride. Made it to the top in one piece and proceeded through millions of pilgrims, past all the souvenir  and foods outlets, even a couple of exclusive hotels, up stairs and along promenades until we got our first glimpse of the golden rock at close to sunset. pretty bloody amazing sight. We wound our way through the masses who had set up camp for the night, and there was masses. until we got to this gold covered massive round piece of granite, balancing on one square foot of contact at the edge of the precipice.   Back to the trucks to take our hair raising ride back down the mountain. by the time we had taken our evening meal and got to bed it was late. Sleep, however, was a bit had to maintain as the outside music and parties went on till well after 4 in the morning.
Friday 30th December 2016
Off on another bumper ride. I had been assured that the road does get better. Better I found didn't necessarily mean good.
Naypyidaw, the new capital, was the destination for that day and it was over 350 kms away. It made for a long day of more of the same pretty boring landscape and undeveloped little towns to pass through. Then like you enter a different country you encounter fully concreted wide road with centre isles and huge round abouts and virtually no traffic except cattle being hearded along the road. The ride was rewarded by staying in a very luxurious 5 star hotel. One of scores which lined a section of this part of the city , most of these looked bereft of customers. I liked and needed it.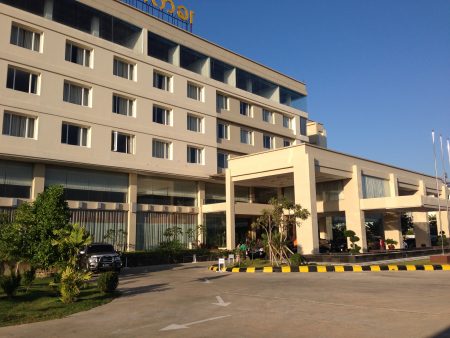 Saturday 31st December 2016
I was another long ride to the next stop at Lake Inle. About seven hours. At least we had managed to climb of the plains and into the mountains and some windy roads and down into the plateau which contained the lake. The landscape is one of hills pretty much devoid of vegetation. A fairly cool climate due to its elevation. I even got to go into front of the escort vehicle over the mountains. I think they could sense my frustration at having to stay behind the tour van plus there were no wrong turns that I could make. Not that the roads were very conducive to fantastic riding.
I had been riding my bike for the last two days without any rear brakes. For some reason the new rear brake pads I had installed in Jakarta had disappeared and it was metal on metal. I first noticed this when I would slow down and could hear a light grinding sound. Didn't figure it was worns brake pads. The last lot had lasted 25000kms. After checking that it was the rear pads I disengaged the ABS and just used the front brake. The braking improved but I was still hearing the tingling sound of metatal to metal. So as we reached Lake Inle I knew I was going to have to try and have it fixed…No I didn't pack any spares. We found a bike shop with an inventive mechanic who managed to uncover some Yamaha pads which were close. So with the help of the angle grinder managed to get the brakes to function properly. Something I know I will have to replace when I find some originals. Got the oil changed as well.
There may have been New Years celebrations going on about the town but not for me
Sunday 1st January 2017
We had to be up fairly early to join the long tail boat which was to take us out on the lake.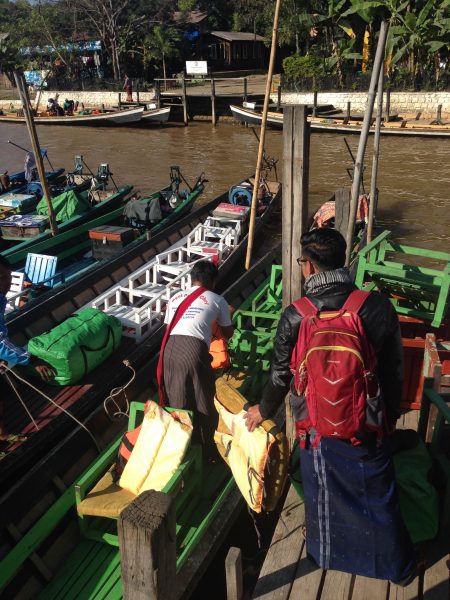 It was a 40 minute ride/cruise along the canal and out into the lake proper. We observed the fishermen who should on the ena of their boat oar the oar with their feet whilst holding onto the long basket style net and stirring up the water with another stick, waiting to see if any bubbles came up and then dropping the basket hoping to trap the fish. A lot of work to catch a fish. Further on into the lake complex we navigated along a few narrow canals to reach the village where they specialised in Silver Jewellery. We had the whole process explained to us and were able to watch the master craftsman demonstrate their incredible skills. Wish I had a lot of money sometimes. Out into the canals again headed for another village, this one specialising in hand weaving, on different style of manual looms, nothing modern here. Production of thread, some made from the fibrous matter found inside the water lily stems, a painstakingly long process, cottons and silks. All woven into traditional designs and fabricated into wearable and decorative clothing.
Next came the paper and umbrella making village. The paper is made by traditional methods using the bark of a local tree, soaked, pummelled, teased and spread over the muslim evenly, stripped and left to dry. Go to whoa less than a day. The paper is then used for amongst other things, as the covering for the bamboo umbrellas made by this village. Very intriguing to watch this process. All done on hand operated primitive lathes and ancient tools.
Cruised off to check out the temple located in the middle of the lake. This housed these very 4 very revered buddhas. Not that they are recognisable as buddhas anymore as there has been so much gold leaf burnished to the original figures. I would have a go at repeating the legend but I would not get it right.
On the way back the boatman took us through the narrow canals which ran through the floating vegetable gardens. These are made by collecting the masses of water hyacinths that proliferate in the lake, into thick beds, mulch and fertilisers are added, the mass is anchored to the lake bed with long bamboo poles and viola you have a garden.
2nd January 2017
Once out on the open road again  we had to back track over the mountain so I got to go in front again till we reached the toll gates. Drove and rode till we reached a lunch spot just past Meiktila. From here we turned north along the old Mandalay – Yangon road. There is a nice new 4 lane concrete highway reserved for 4 wheel equipped vehicles but no 2 wheeled motorbikes. This proved very unfortunate for me.
It was around 1:45pm as I was cruising along the right hand side of the two lane road, probably doing 80 to 100  kph when this fool on a 110cc Chinese step through, with a pillion on board launched up the bank from the left road side drain onto the road without bothering to look. i say launched because of the incline, the two of them, one not a lightweight, on a small bike, they had to maintain a fair bit of momentum. He then proceeded at right angles to the right road side, without bothering to glance in my direction, directly across the road right in front of me. In the short time I had to think, if you could called it thinking, I figured that he would turn in the same direction as me when he reached or even before he reached the middle of the road and I would just pass through on the inside of him. Just as had happened millions of times previously. Not this time. This guy just kept heading on the same tact towards the right hand side of the road. I kept changing my trajectory in order to miss him. I nearly made it. He had just about straightened up, I was either off the bitumen or very close to it, when my left had pannier impacted or the passengers right leg and possibly the rider's right leg both not far above the ankle. This catapulted the passenger off the bike down the middle of the road. Their bike went down and the rider was dumped on the right side edge of the roadway. My bike and I must have then done a end over end flip down into the roadway drain away and ended up with my left leg under the bike, screaming something like F##K F##K F##K F##K.
I managed to extricate myself from under the bike and tried to rescue my phone from the tank bag which had embedded itself into the dirt. I wanted to let the guys in the van that I was no longer following them and that they should come to my rescue. This I did. I found I couldn't walk but managed to drag myself far enough up the bank to see the two guys laying face down on the road and not moving. It didn't take long for people to pull up, mainly cause there was a bike and two motionless bodies on the road. I was very relieved was I noticed them both exhibit some movement. I tried to take some photos before the good people moved everything as they do. Despite my protestations they still did. The boys from the van turned up and the police while I managed to drag myself to a nearly stump and sit up. The pain was starting to kick in as I watched them pick up the guy who had landed in the middle of the road and plonk him down not far from me. He was starting to scream. His pain from what turned out to be a crushed leg broken in three places, was also kicking in. The other guy was still face down on the road with blood poring from a very nasty deep cut in leg. I was shaking like a leaf. What the f##k had just happened. Couldn't believe it.
The boys tried to pick up all the bits from the bike. I was helped back over to the bike. Managed to get it upright and retrieve my tank bag. All my luggage was being transported in the van so that was OK. The bike was a real mess with all the front instruments, headlights, windshield, driving lights, cowlings and front fender smashed of stuffed. All this damage turned out to be the least of my problems. There was no wreckage of from my bike on the road or evidence of bike hitting bike.
The bike was impounded by the police along with my passport while I was put in the van and driven the 2 hours to the Mandalay General Hospital. Even though that took a few hours I have little recollection of the journey. I must have been lost in thoughts of what had happened. I do remember Kyaw pointing out the comfortable looking Mandalay Hotel where I was supposed to be staying that night. I was destined for greater things. It was almost 6 by the time we clocked into the hospital. I wasn't ozzing with confidence as to my recovery. I was, however, given immediate attention, a triage I think you would call it was done and my open wounds dressed, poorly. I was shuffled off to Xray. Many were done of my ribs, shoulder, back and foot. Not a lot of lead protection in this room. People standing with me holding me in position while the Xrays were taken. Off to the doctors for interpretation. I had 3 cracked ribs 4,5 and 6 on my left side. That prompted a visit to the ultrasound room. then to another room for interpretation of that lot. It was found that I had sustained a small amount of internal bleeding and therefore would have to remain in hospital for observation. This whole process probably took a few hours. That, was I was pretty impressed with.
By the standards I am used too, the hospital generally is in a pretty poor state. The doctors and nurses must have a pretty hard time maintaining their commitment to care for their patients. The hospital is grossly underfunded by a government which has a difficult time in raising taxes etc from a very poor population. Everything is pretty grotty and nobody seems to mind.
I was next escorted to the general male ward. This really blew me away. I waited till a bed was found for me. I don't know how they managed to do this as the ward was really grossly overcrowded. There was probably 60cms between beds. Some 'beds" often consisted of small tables put together, or stainless steel park benches, The halls were extensions of the ward with patients taking up every available space. Add to this that the hospital does not supply food, sheets or pillows. These have to be supplied by friends or relatives. So for every patient there could be 2 or 3 relatives is attendance attempting to keep the patient comfortable. No semblance of maintaining any modicum of hygiene. Luckily the guy in the adjoining bed had a spare pillow and offered it almost straight away. After another hour a nurse arrived with a sheet for my bed, I was the only patient to has a sheet, the mattress was some sort of plastic covered kapok filled lumpy thing and hard as a rock. I think a rock would have been more comfortable. With all the bruising and cracked ribs laying in any other position than on my back was impossible. Movement was painful. Kyaw had been given some prescriptions for pills for which he had had to got outside the hospital to get and then administer to me himself. Nurse assistants came around every now and then to check temperature and blood pressure. One on side of me was a fellow with pneumonia coughing himself to death. there were guys screaming and moaning in agony. It was not a nice place to be. The squat toilets were highly inadequate with only 2 of the four "working" for this huge ward of patients and their entourages, and really gross . My poor guide, Kyaw, didn't leave my side. He attempted to rest perched on a small stool beside my bed his head resting on his arms. Gladly I didn't need any surgery or I would have be really concerned as to my possible recovery. Sleep that night was minimal.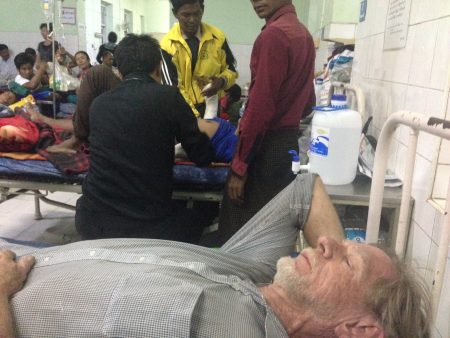 The whole day had seemed like it was happening to someone else cause it couldn't be happening to me.  I was in a state of disbelief and disrepair and I didn't like it.
Tuesday 3rd January 2017
The morning was predominantly spent in the ward apart from the time they brought in a wheel chair and rolled me down to the bone specialist to affirm the cracks to the ribs and check all the other Xrays. Kyaw was concerned as to my mental state if I had to stay in the general ward for another night and so had checked out alternatives. He had managed to find out that they were private rooms available in the hospital and given the right approval I could be moved. The boys had brought me in some sandwiches for lunch, after which we all exited the general ward for the car park. Now it would seem an easy brick to move from one ward to the other. Not here. Kyaw had to get permission to leave the care of the doctor in the general ward and then get permission from the doctor to be admitted in the private wards, which were in a different building. This process had Kway going from one to the other at various times during the afternoon trying to get access to either party. We spent 5 hours waiting in the parking lot, not really a parking just the road into the hospital. I met Kyaw's girlfriend, had some acquired "take-a-way" and just kept waiting. Kyaw eventually thought he had got all the approvals required. Off we ventured to my new digs. This was a much tidier and cleaner building with way less people. As usual, when we reached the exclusive 8th floor and checked with the admitting nurse, she was unaware of our  impending arrival. More waiting until Kyaw went and obtained a written release from the general ward. With that finally sorted we were shown to the room. Air con, TV, fridge and separate bathroom. Much much better.  It was 9:30 pm. The room had two beds minus bedding of course, or towels etc. I got the boys to retrieve some of my camping gear, ie pillow, sleeping bag, towel. We were doing OK. Kyaw took the other bed as he was loath to leave me to my own devices and also he was the only one  who knew what pills I had to take and when. Over here and in most of Asia, you don't buy a whole box of pills, just a strip, so there is no instructions on a box or warnings to follow. Just have to remember and I had about 7 different ones. So Kyaw took this responsibility very seriously. Lying down was still an uncomfortable experience but at least the was a modicum of softness to the bed and the blow up pillow helped and the bathroom was clean.
Wednesday 4th January 2017
The new year had not started well. I had been told I was to be in hospital for three days of observation so by this afternoon I should be free to leave. Kyaw had made all the right enquiries and assurances had been given. By that afternoon we should be free. By the afternoon a release had still not been secured from all parties ie both doctors. So come evening we ventured out to a local food house to acquire some proper food. Upon arrival the three boys a I looked t ordering some food. Now I don't know where they came from or how they knew we would be there, but gradually people started occupying neighbouring tables until we were surrounded by 16 to 20 people obviously not there for dinner. These people turned out to be the family representatives of the two guys on the other bike plus a lawyer. I had previously been in contact with the Australian embassy and their information indicated the negotiations for any compensation could not occur till after all parties had left hospital. Yes I am the one who has to compensate the other guys. Why I haven't quite worked out. The assumption is that I hit them from behind so I am at fault, despite the other rider breaking many traffic laws to get into a position to be hit while I was just riding down the rode and not guilty of infringing any traffic rules. In fact they hit me from the side before my pannier crashed into the pillion's leg. I am the foreigner so I am naturally in the wrong. Kyaw had talked to the two guys previously about compensation and had expressed their view that US$7000 would be good. It came down to $4500 which in most people's view was excessive. I settled on $2000 as a good figure and Burma Senses, the tour company, had agreed to  make up the rest. When I wouldn't pay anymore I gather they called my bluff and all got up to leave inferring that it would go to trial which is not what I wanted as that could take several months before that came to court. Kyaw suggested I pay another $500. I reluctantly agreed and they all sat done again. At this point I was told the main protagonist was a lawyer brought in to do the negotiation. I was really pissed off that this was even taking place. It was all agreed and everyone except me shook hands except me as I was just left at the table licking my wounds. As we were supposed to be able to get out of the hospital we returned to the room and got our things together and went out to the admission desk only to be told that the doctor from the general ward could not be contacted for his approval and therefore we couldn't leave. So it looked like we were spending another night in hospital.  It wasn't that bad I just didn't want to be there.
Thursday 5th January 2017
On being awakened by a rat trying to get to the cake in a plastic container I checked my email. that wasn't a good Idea. I had received an email from Burma Senses to say he had made a mistake in his calculations and instead of paying $2500 I would now have to come up with $3500. Had I been of a violent disposition I would have smashed everything in the room. What the _____. OK anything to be able to leave this country. We did manage to get out of the hospital. I that regard I was lucky. The other two guys were still in hospital. The one with the leg broken in 3 places had been taken to what was explained to me as the "bone hospital' the other remained in the general ward.
That day we were scheduled to go back to the police station 2 hours away to give our side of the equation and the police could write their report. We arrived around 10:30am. By 11:00am there were about 15 or 16 men in the room with the beatle nut chewing sergeant holding sway. The report was written by hand with interpretation from my guide. Questioned and discussed by everyone in the room throwing in their two bobs worth. My licence and passport were photographed and examined repeatedly. At one point we all got into about 4 vehicles and returned to the crash scene, where I could explain in detail how the accident occurred and why. My version of course contradicted the other parties story. I felt I managed to debunk that version due the the positions in which everyone and everything finally came to rest. Not that anyone was nodding their heads in agreement. My boys helped to elucidate my version to the police. They were great. There had unfortunately been no witnesses to the accident. Back to the police station for the final draft. At some stage I asked Kyaw who all these people were and included in the retinue were the officers from immigration who were here because I would also be charged with having an accident which contravenes my visa. With the report finalised it then had to be taken away to be typed. Typing in Burmese is considerably slower that typing in English. Its pretty but weird. Darkness had already come upon us by the time that was competed. It then came down to signing. I didn't get a report written in English to know what I was signing. Why did I feel I should?
I and about 8 others had to sign the ten copies required. I had to sign each copy twice as Mr Heldon Peter Richard. they couldn't get their heads around the fact that we do it different. I stuffed up a few times but no one noticed. Everyone got their copies and we were allowed to go. Not, however, back to Mandalay but 40kms in the other direction to Myo Gyi. We had to stay somewhere within that police district. Great. What else?  This town was out of the wild west or southern Calathumpia. A rabbit warren of a town and nearly as clean. Rubbish every where.  An overpriced hotel room was our stop for the night.
Friday 6th January 2017
Today I was scheduled to return to the hospital for a final check up. This trip we go to ride up the new concrete highway to Mandalay. A very safe and largely deserted 4 lane divided highway. Had I been allowed to travel this route I would still be on the road. The trip only took a couple of hours. About the same time as it took the doctor to come back from lunch. I was given the usual bloody pressure and blood oxygen checks. It was emphasised that I could do any heavy lifting for three months and couldn't ride my bike or a car for at least one month. That shouldn't be a problem I will probably still be in Myanmar at this rate. They boys thought it a good idea to visit the other two guy as a gesture of good will will I waited outside. So we did that and checked into a hotel. We found a cafe which served beer but Kyaw still wouldn't let me drink any. Another day of my life wasted.
Sunday 8th January 2017
Back to the police station where we were to meet with the other parties and the local councillor, bit like a major, in order to draw up the negotiated compensation agreement and hand over half the 6 million kyat. In order to get 6 million kyat I had to hit the Atm's about 20 times. The withdrawal limit in 300,000 at a time with a 5000 fee. Banks know how to make money over here. This turned into a bundle of notes about 280mm high. I felt like some sort of bank robber. My guide commented after we had accumulated half of this that it was more money than he had ever seen in his life. We all adjoined to the mayor's house to draw up the agreement. this guy was a rice farmer and the yard and sheds were full of piles and bags of rice. The agreement was drawn up in hand and 2 copies were made. the signing was done, the money handed over and counted. And that was that we could go home. It was lunch time so we stopped just down the road for lunch. It was long before the guys who had been present a the signing turned up, which I thought strange. Behind them arrived three guys on bikes. Much heated discussion took place. All till a mystery to me. Then I noticed Kyaw was sitting there counting wads of notes. I venteured to ask why and was told that the other party were giving the money back and that the sons, the boys on the bikes, had decided they wanted more money and the negotiated and signed deal was off. I think by that time I was staggering about and muttering words to myself in total disbelief. How can they do this?  Well they just did. The ride back to Mandalay seemed to take forever, I even question Kyaw's capitulation at giving the money back after all the work that had gone into getting to the point of signing the agreement. I may have been just a tad angry at this point. Silence reigned. I wasn't game to say more in fear of saying the wrong thing and getting my boys offside. What a bloody circus this place is, and I think I must be the clown everyone is laughing at.
Monday 9th January 2017
Once again we had to return to the police district. This time to the immigration department offices. I had apparently, due to having an accident, breached the terms of my visa. So I also had to face charges in relation to this matter. When we eventually located the offices we were shown into a very tidy and organised office. In the presence of only two men this time a report was written up by hand, pretty much based on the police report. Still no written English translation. I insisted on a few alterations, as one paragraph inferred I was at fault. This didn't make the officer too happy. This was was then typed up and signed and we were free to make the two hour journey back to Mandalay.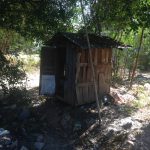 Tuesday 10th January 2017
We had to just sit about today. They Police were coming to Mandalay to interview the other two guys and take their statements, however, half way there they were informed a dead body had been found in a village and they had to return.
That night at dinner we were joined by Zaw Zaw and Thun. This is one of those knows somebody, who knows somebody, who knows somebody stories. Rebecca back in Kempsey had remembered a couple who's son, Rick, had been in Myanmar for 20 years building schools with donated money from Australia. Rick at this time wasn't in Mandalay but a couple of his workers were. Rick thought they may be able to help. During the discussion Thun mentioned that he had a lawyer friend who may be willing to help at the trial. They gave him a call and briefed him on my plight. He too was shocked at the amount of compensation being asked and said he would assist if it came to trial. So that was pretty good. I celebrated with a slice of local cheese cake.
Wednesday 11th January 2017
The next couple of days were really a matter of waiting to find out whether the two guys would come back to the negotiation table after Kyaw and Kwaw had gone to see them in hospital and explain again that there was no more money. That  I wasn't rich by western standards and did not have an unlimited amount of money. No they weren't gong to buy into that one.
Friday 13th January 2017
So by today the boys were told to return to Yangon. Their home base. 'We stopped off at Nap Pai Taw to deliver Guy's report to his bosses at the ministry of Hotels and tourism and continued the 8 hour journey to Yangon. Young Dan, my son, as it happens had a friend, Matt, from Uni who had taken up residence with his partner, Christa in Yangon and could put me up for a while. Matt and his smiling face greeted me on the street outside their condo complex and I and all my gear were soon ensconced in their homely apartment with furniture and ornaments and beautiful art on the walls, complete with a guest bedroom and drinking their beer. Wow people who spoke fluent English again. This was a definite improvement on sparse hotel rooms. Gotta get lucky sometimes. It wasn't long before we were out and up the road to one of their favourite eateries and a Tower of Beer, Back at the apartment the merriment continued till 4 am when after repeated efforts at calling a night we finally did. Probably my latest night for 15 years. My cracked ribs probably took a setback due to all the laughter I had to endure at the hand's of this normally mild mannered accountant.
Saturday 14th January 2017
After a pretty late and shaky start, it was suggested that we go check out some of the local back streets. After a while we came across a very extensive local market in behind the main street. Wandering through these non touristy markets you are filled with wonder and fascination. So many small holes in the wall selling virtually everything a body could want or need.
We were all a bit peckish and managed lunch in a roadside cafe complete with a few bottles of Myanmar's best.
Christa, back in the nineties had purchased some glassware at a Yangon glass factory, all of which had been broken in one of her many moves around SE Asia, so was keen to find some replacements. We found it but it had been closed since 2007 when the government raised the gas price by 6000% and then it got hit by a cyclone which crashed large trees down on the whole thing. It was once a massive enterprise. Now it is just masses of broken glassware lying around in piles.  Not to be defeated Christa managed to find some matching tumblers. The rims still needed to be polished which was the only part of the business still working. So she ended up with 10 tumblers and a milk jug.
The night I was taken out to Sweeney Todd's for dinner and later to the Vista Rooftop Bar where there was some more libation and a had my first encounter with a Shisha pipe.
Sunday 15th January 2017
After a rather late night, today was a time for recuperation. Managed to get our act today and enjoyed a Myanamar burger. Later Kyaw came over to meet up with one of Christa's friends who thought she may be able to help my cause. She had a few high level friends in Mandalay. I need as much help as I can get. Christa has been fantastic. More food, more beers, and some much needed sleep.
Monday 16th January 2017
It is the best time of the year to be in Myanmar. The mornings and evenings are cool and the days are not overly hot. This only lasts for a few months before it again turns to hot and then to wet and very uncomfortable weather, at least for the Europeans in the country. I had Kyaw coming over this morning as we had a meeting lined up with the Australian Embassy. I'm living in this protective bubble where everything is great. My hosts are superb and everything is a little unreal. But lurking in the background is this total uncertainly of the future and the outcome of the upcoming trial. This was all brought back home to me at the meeting where I was advised to get out of the country post haste. That going to trial could risk a jail sentence. I rejected their advice, I couldn't see me walking away and leaving my bike but more importantly leaving Kyaw and his tour company, as they are responsible for my behaviour whilst in the country and if I absconded they could have their tour licence revoked, and in a whole pile of crap . So I emerged from the meeting rather agitated and my thoughts going in all directions. We had a bite to eat and Kyaw attempted to interest me by checking out a few of the old colonial buildings in the area. I wasn't into it. I don't think he was either. Grabbed a taxi and headed back to the security of the apartment. We ate out again that night, just down stairs at the Golden Crab. So many decent restaurants around this area. More beer, but we all managed an early night.
Tuesday 17th January 2017
I had to get out and about and see a bit more of Yangon. The biggest and most revered Pagoda in Myanmar is the Shwedagon Pagoda. On arrival I ascended the never ending Southern staircase to arrive on the terrace, where I enlisted the services of a guide. Situated on the highest spot in Yangon and containing relics of 4 Buddahs, it is reputed to be over 2000 years old. Surrounded by a terrace covering 14 acres with its 72 statues of Buddha. It has been increased in size over the centuries by adding more layers and now rises to a height of 99meters. Covered in gold leaf and gold plates with an "umbrella" at the top which weights 5 tons made up of half a ton of gold, 83,850 pieces of jewellery and over 4000 bells. Atop this is the weather vane which alone is 419 kgs of gold encrusted with 2000 assorted gems. Sitting at the very top is the Diamond Orb. This contains 4351 diamonds (1800carats) with the apex diamond a whopping 76 carats.
Not sure why but Matt decided we should determine my buddhist character,(not sure that's the right word). Because I was born on a Thursday, a fact I had never investigated, this is the day of the rat. Also because I was 70 years of age, it meant that if I was to have my wish of future health and happiness I needed to pore 70 cups of water over the statue which depicting my astrological post. So I did. It took a while and I felt like a bit of a nut, but what the heck it may work. The whole complex is truly awe inspiring and well worth the pain my damaged foot experienced due to all those steps.  Matt and Christa had requested of the maid to prepare the evening's meal during the day. We had our first meal in since my arrival. Yummy.