Monday Evening 7th November 2016
Upon reaching the airport and paying the 300,000 rupiah fare, I found a flight out via Lion Air which left in 45min. Sweet. Except it didn't. The flight was for no given reason was delayed for another 45 mins. I was a short flight and I was in Penang as dusk was approaching, Immediately found I bus destined for Georgetown. Had a good conversation with the the bus driver for the 30mins or so that it took. I alighted at the ferry terminal where I should have been able to catch the bus to my hastily booked hotel. Missed the bus and the next wasn't for 30 mins. So for the second time in a day I caught a taxi. The Hotel was built in 1946 and would have been fantastic in its day. Situated on the bay front. Whilst it had lost some of it's glamour it was still well maintained with expansive rooms and lounging areas. It also lacked a few modern amenities. By this time it was around 9:30 pm and  was getting hungry. There was a nice seafood restaurant next ot the hotel, however, after being seated and ordering a beer and some lemon chicken, I was informed that they had stopped cooking. Great as least I got my beer. I ended up walking at least a kilometer before finding a KFC. It had been along day and an anxious one. That anxiety would continue until I was reunited with my bike.
Tuesday 8th November 2016
Mr Ahnan from Belawan had given me the name and address of the person I was meant to contact in Penang, however, it wasn't Mr Lim. So I decided to would go to Mr Lim's office to see what the deal was. The bike was not due to arrive till 10 or 12noon the next day. After a good 3km walk I found the office of Mr Lim. He was most helpful and called to the other agent to transfer the unloading and all it associated paper work to  him. I was much relieved. Mr. Lim has been assisting bikers with this Indonesia to Malaysia leg for years. I apparently am the oldest he has helped. I was to return the next day and we would go and retrieve my bike. With all that out of the way I made my way back towards a different hotel which did have all the modern amenities. On the way I walked into a large modern mall and found a Subway outlet, so with some familiar western food on offer I sat down and enjoyed my spicy Italian roll. It was really good as it also brought back the memories of Cherry as this was her favourite as well. If ever I have a Subway it is always s Spicy Italian and an oat bun and ranch dressing. The afternoon was spent trying to sort out the fiasco of the permit to enter Thailand with a vehicle. Newly introduced it basically means to have to get a permit to temporarily bring a vehicle into Thailand. Even with a permit you are restricted to the province into which you entered and have to exit at the same border crossing as you entered.  This was all designed to stop the surge of Chinese who were driving into Thailand having accidents or disobeying the roads rules and then skipping back to China to avoid any consequences It worked but it has caused a big problem for me who wants to traverse many provinces and exit Thailand into Myanmar. So with perseverance I managed to contact Mrs Thip, a contact given to my by Josh. She said she was able to help and sent me all the information on the required documentation. This was turning into a long day as well. I was still pretty tired from the previous days events so I was a food market dinner and off to bed for me. After a beer of course.
Wednesday 9th November 2016
Today was the day to find out if the bike and all the attached luggage made it intact. I had to be at Mr Lim's office by 10am so I set out on the 3km walk fairly early. I arrived in the vicinity around 9am which gave me time to have a roadside breakfast of noodle soup and coffee. I also got to explore a couple of the old jetty complexes of houses built by different Chinese clans over the water. These, over the years, have just turned into tourists shops. Adjacent to these jetties are the pedal trishaws to take the tourist on a very slow tour around all the other little shops that abound in this old Chinese quarter of Georgetown. I think I must have done too much touring as these areas sort of annoy me now.
I made my way back to Mr Lim's where, to my surprise standing next to their 650 Suzukies, were a Polish couple. The first motorbike adenturers I had seen since leaving home. They introduced themselves as as Ania and Michael. They were going in the opposite direction to myself and were there to ship their bikes over to Belawan. I was given some good info on on few countries of the countries I had yet to pass through namely India and Pakistan. After finalising the cash side of things I was soon on the back of Mr Lim's bike and heading to the port on the mainland.
On arrival at the wharf with the boat docked along side, I could see no sign of my bike. Whist I was hastily looking all around Michael calmly pointed out the bike which was under covers, behind a pile of sacks, on the other side of the boat, As the men removed the covers I was gratified to see it was all still intact. Just got to get it off the boat in the same state. It was rather surreal to see my BM sailing through the air in a couple of rope slings and gently coming to rest on the wharf.
With the key in the ignition and the starter pressed the engine came to life. There was a great feeling of relief, at least on my part. The Polish couple had to now prepare their bikes for shipping rearranging stuff and packing enough gear to last a couple to days till their bikes turned up in Belawan. We chatted some more until Mr Lim had finalised everything, I was then escorted toward the ferry and was on my way back to Georgetown.
Thursday 10th November 2016
I had made an appointment with the Motorrad dealer just down the road from the hotel. I wanted them to find out why the motor was momentarily cutting out when the tank was low. A bit unnerving. I assumed it to be dirty fuel. The boys there soon informed me it was a fuel pump problem which if I kept the fuel levels above half full it would be OK. I didn't find this a very prudent course of action. So I had a new fuel pump installed at great expense.
I had been in touch with Mrs Thip a tour operator in Thailand to help with the permit to take my bike into Thailand. A requirement which was not necessary when I left Australia. One of the documents necessary was a notarised letter from the Australia High Commission stating my itinerary, entry and exit point etc. Having composed this letter and printed it I headed to the Australian consulate in Penang. Arrived when it was closed for lunch and was told to return at 2pm. With a couple of hours to kill I decided on a ride around half the Island then cross back over the hills. Nice ride, took a little longer than the 2 hours but what the hell. The consulate officials regrettably informed me that they did not have the authorisation to stamp such a document and that I shall have to go to Kuala Lumpur. I sent  my letter away anyway to Mrs Thip in the hope that it would do. No… needed the stamp.
Friday 11th November 2016
I wasn't going to get to the embassy in KL and get the letter stamped in one day and with the next day Saturday it would be closed. With this in mind I changed plans and headed off toward Kota Bahru on the other side of the peninsula. What an amazing ride. The roads are fantastic. Wide with great sweeping curves, mountain scenery and very little traffic. After Java and Sumatra this was heaven. As I swept up the hills it became colder and colder and by the time I reached the highest point it was time to don some more gear.
The weather was closing in an you could feel a thunderstorm in the offing. It wasn't long before the clouds dropped their load. I pulled into a servo just in time to avoid a drenching and waited it out. After half an hour I had to venture forth, so on goes the wet weather gear. As is the case 20 minutes down the road it hadn't rained at all. I had booked a hotel??? on the side of the road as usual. The reviews all two of them, said it was OK. They lied. This one was rubbish. one step up from a loesman.
Saturday 12th November 2016
In my haste to leave in the morning I left my computer power lead behind. First time I had lost anything. i was very annoyed with myself. Didn't realise this till I was 350 kms away in Kuatan. This was my next stop before returning to Kuala Lumpur on Sunday. Once again beautiful roads and little traffic to contend with. Here I found a brand new hotel with all the gear for less than the previous nights ripoff. I also found an apple reseller to replace my cable. I phoned the hotel where I had left it and asked that they send it back to Penang for me. Luckily they agreed. Hopefully they do and I shall pick it up on my way to Thailand. Also found a crash bar mount for my Gopro.
Sunday 13th November 2016
Monday 14th November 2016
I already wrote this up but the wifi was on the blink and didn't publish it. I hate that. Anyway it was an easy ride as I took the tollway which is free for motorbikes. They have these narrow lanes at the toll gates for motorbikes. Quite curious as some of them take little detours, one even took me through a little tunnel. The landscape and tree planting around these areas and in the rest areas and even along the side of the road is fantastic and really well maintained. However, most of the countryside has been given over to palm oil plantations. The hills have been denuded of their natural flora and then terraced and planted with palm oil palms. Makes you wonder what happened to all the villages and their inhabitants. Sad really. We are all participants in this environmental disaster. Palm oil is used in a massive number of the products we use every day.
I cruised into KL before the storms hit, but had put on the wet weather gear along the road. The ride only took a few hours so I arrived in KL around 1:30pm in time to find the Australian High commission right in the centre of the big business district. I was wet through from  having all this gear on in the heat and humidity. Stop lights are the main hazards you can almost feel yourself being broiled. When I parked the bike and poured myself out of the gear the guards on the gates directed me through the security portal. This place was huge, lavish, pretentious and empty. The only people I saw were the two counter staff and all the guards. Why the Australian government has to spend so much money on these establishments is mind numbing. Must have  to impress someone I suppose. I had to rewrite the letter I had prepared, this time by hand on a statutory declaration form before they would stamp it. This they kindly did after I had forked over the 60 ringit fee. I could now photograph it and send to Mrs Thip.
That done I found myself an affordable (cheap) hotel in the Chow Chit district. It was a pretty seedy area by our standards. rather fascinating though. And the food at the local resto was not really to my liking. I survived. The hotel was way past its prime, All a bit worn and sorry for itself but comfortable enough. I had to park the bike out in front of the hotel, behind a bus shelter which was constantly occupied by a homeless man and all his belongings. Every time I went out or came in he was always there. Probably not game to leave in case someone pinched his spot.
Tuesday 15th November 2016
My next trick was to try and secure a visa for India. This was a battle I didn't or couldn't win in Malaysia. Before I left home I had tried to complete the online application, which is the only way you are allowed to apply, only to find that there was a 6 month validity period and I would not reach India within that time. I rang the mission in Sydney who informed me I could apply along the way. Good I shall do that. This, however, proved not to be the case when it comes to Malaysia. India has, in most countries, outsourced it's visa issuing services. I had filled out the form in KL as best I could but the programme wouldn't let be print it as it wasn't complete. So I temporarily saved it as you could do. I figured I could go to the visa mob and pull up the file and they would help me complete the bits. A example of this idiocy is that in one section it asked you your occupation and it has the drop down  box and "retired " is in there, which I am, so I choose that one. The next few lines want the address and phone number of your employer. If you don't fill in these lines and try to save the file, computer says no, you have to fill in these lines. So there are a few  of these anomalies throughout the application.
So I find my way to the IVAC as it is called, park my bike on the footpath with the others, and head into the throng of people submitting there applications. I was directed to one window where the girl was not very helpful, insisting that because I was a foreign tourist I could not apply. I showed her my reference number for my saved online application and she said it was temporary and is only saved for 24 hours. In frustration she sends me to another window. At this window I can pay 21 ringgit and have someone help me redo the application. Lots of others have also elected this option resulting in what could be a long wait. I was becoming impatient, so I asked a supervisor looking guy if I was in the right place. He looked at my passport and decided I should be over in the premium service area. What ever that meant, and sent me back to get a refund on my money. This they did. At this time they decided my passport photos were not in the required 2″ square format, so I should go next door to the photocopy/printing shop and get my photo redone and a few other bits photocopied. This place was so congested and such a madhouse. However, I did get my photo done and some files from my USB stick printed as requested, and headed back into the other mess. Upon arrival back at the the fist window, the girl, in order to get rid of me, told me to go next door to the travel agency and they could help me with the application. Another long wait to get to the front of the queue. As the lady began to fill out the application one of the first questions was my point of entry into India. I said Moreh which is the land crossing from Myanmar into India. This proved to be a problem because her program would only give the option of arriving at an airport, as in a evisa. I needed a regular visa, so I was given a short shift and told to return to the IVAC. Having been directed back to the first counter and the same girl, she became quite irate and pretty much told me to go away in no uncertain terms. At that stage having wasted the whole morning I returned to the heat and humidity and my bike only to find that I had been given a parking ticket. this had not been a good day. I felt like a whipped dog and when back to my bed with my tail between my legs.
Wednesday 16th November 2016
A new day. I had to get this visa thought I would have a go with the India embassy just to satisfy myself that the there must by a way around this crap. i mean anyone can fly into a India airport and get a visa. I can't see why it has to be so hard just cause I want to ride my bike from one side to the other. Others have flown in brought a bike and travelled all over India. I turned up at the Embassy, making sure I parked where I wouldn't get a ticket, ie parking station, for illegal parking and proceeded through the security on the upper story of a office building. Having received my ticket in the queue I sat and waited to make my case. An hour later my number was called for e to advance to the foreigner applicant window. Unfortunately, the story was that I had to apply at the IVAC. I even had a chat to the head man, who when I told him that they had said it was impossible, he told me they were wrong and that I could. So now I would have to go back there tomorrow and have a go at them.
Because applications can only be accepted in the morning the afternoon was given over to a visit to the Menara tower. I'd never ventured up one of these, mainly because I figured they were a rip off. This one confirmed my opinion. $30 to catch a lift to the observation deck. I paid, thought it may pick me up a bit. It didn't. As is the case in Asia everything is shrouded in a mix of tropical haze and city pollution so there is no "see for ever" sensation. Everyone else seemed enthralled my it all. Gingerly walking out onto the glass floored sky decks to have their photo taken. I guess my thrills come from elsewhere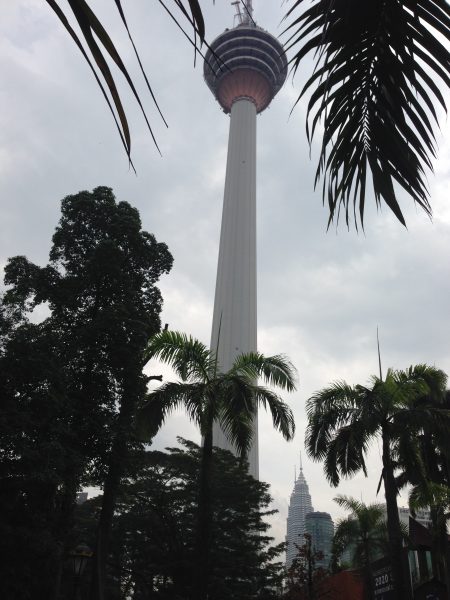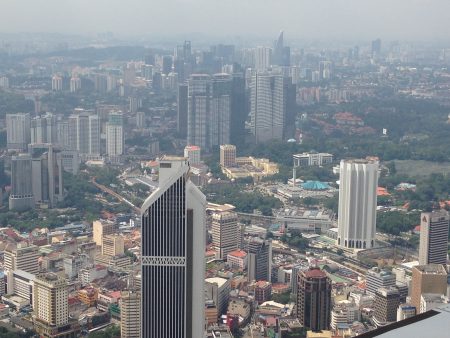 Back into the fast traffic and the trying to understand google maps directions.
Thursday 17th November 2016
I wasn't very hopeful that today's visit to the IVAC would prove anymore successful than previously, but had to have a go. Once again directed to the same girl who reiterated  the same statements as before. I told her that I had been to the embassy and that she was misinformed. At that I was directed to the next window to again pay for assistance in filling out the form. It being a bit later in the day than before, I received a lot of helpers. First one then another with onlookers putting in their 10 cents worth. However, it was all to no avail. After much banter between them all and circling items on the form, the girl finally gave up and directed me back to the window to get my money back and then to the exit. I was beginning to think they didn't like me.
The day wasn't over luckily. An old uni pal of Dan's, my eldest, Eddy Loy had contacted me and invited me to dinner at the Petronos twin tower complex. What a wonderful guy. Took me to Chillies restaurant and beered and dined me. We had a good chat. He was the perfect host. Hopefully, I thanked him enough for his hospitality.
After 3 days of rejection it was good to talk to a civilised human again. I retired to my Chow Chit Hotel to ponder my next move.
Friday 18th November 2016
I spent today trying to find a way around the problem of the India visa. The previous day, whilst clutching at straws, I had sent off a  message to Chantal, of "Chick on a chock chaser" fame. I had a vague memory from one of her earlier blogs, that she had applied for and got an India visa in Phnom Penh. Today I received a reply from her, now presently in Iran and with limited internet connection. She confirmed that, yes, she had. A spark of hope was kindled. I spent most of the day with few more messages back and forth. Her suggestion was that I fly to Cambodia and apply from there. I read up on entry to Cambodia, India visa application in Cambodia and flight times etc. The day wore on and I still hadn't resolved all the issues confronting me. Flying to Phnom Penh just to get a visa seemed to be a huge decision. However, I didn't seem to have a choice. It would mean 5 or 6 days.
The weekend was approaching and I just could not decide.
Saturday 19th November 2016.
I really needed to get back on the bike and think about what I wanted to do. So, completely irrationally, I decided to ride south to Melaka. I had told it was nice. It was toll way pretty much all the of the ride. This one was a bit flat and boring and at 120kph I was being overtaken by just about everything on the road. They like speed over here. Being a Saturday, as got near to the waterfront, I was confronted with the spectacle of streets full of tour buses and the alighted passengers roaming all over the place. I went to park but they wanted money, and the thought of fighting through all the Chinese tourists caused me to change my mind. I cruised about about a bit just to make sure I wasn't going to miss anything worthwhile. Nope. I turned my bike towards a quieter part of town to check the internet for a hotel. On perusing the booking sites I found that I had parked outside a nice hotel which was a reasonable price and modern. Why look any further. La Boss hotel was it. Besides I still had a bit more research to do.
I had had a few more messages with Chantal and decided Cambodia was going to going to have to happen. I didn't want to about face and go straight back to KL without first exploring a bit more of the highlands which lay to the east of Melaka. Plus riding back along the toll way did not appeal to me. Had a lot of problems figuring out one particular question in the India application. What do I put for a referee in India. I had more messages with "the chick" who gave me a few options. I had to book a hotel which was somewhere on my route through India. Sounds easy. Not for me. There are too many hotels in India and I needed a booking site which allowed me to cancel. Most of the India hotel sites didn't work. And how was I supposed to know when I might get to Agra?
I risked a rather dubious mutton curry and Roti at a local restaurant and called it a day.
Sunday 20th November 2016
It was a day of heavy cloud and the forecast of thunderstorms. However, couldn't hang around. The ride was good and the ride pleasant. Toward lunchtime I came across a turnoff to Malaysia's best nature wonderland, or something like that. As I pulled into the car park I wasn't feeling all that impressed with the usual tacky souvenir and food stores. There was a closed gate with a security guard. People from the car park would walk up and the guard would let them through. Now had I been able to read Malay I would have known to be directed through this gate. Past the gate was a different world. Driveway lined with forest leading up to a conference centre and eco friendly lodge. Past that a few more eateries and souvenir shops and then the pathway which if followed which would take you to the top of the waterfall. Not that in the oppressive humidity was I contemplating such extreme exercise. Many families had taken up the picnics areas along the stream, and fully dressed were enjoying the waterholes. I walked further and I finally, after becoming drench in perspiration, found a quite spot by the water to rest and attempt to cool down. I had ventured off the main track so having attained a reasonable coolness walked back to the track intending to return to the bike. When I hit the main track I heard the call of howling monkeys further up the track and thought to investigate. I kept on going up and up, the trees getting taller and taller and no sign of a monkey. I came upon a sign board, which along with something else said 300 meters. I'd come this far, I was curious to find out what was 300meters away. I was seriously overheated but pressed on. The paved track deteriorated as the hill became steeper. Made it passed the 200 and then the 100meter signboards. No more picnickers frolicking in the fast moving water anymore.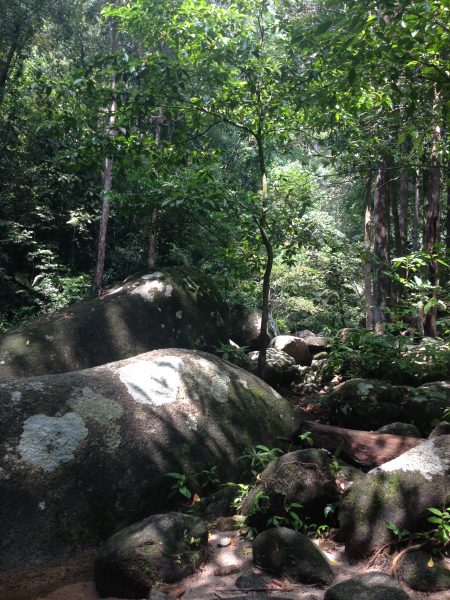 I eventually, after climbing a long flight of steps running up along side the "waterfall" reached the top where there were more pools, more younger fully clad girls swimming and, more importantly, a rock for me to sit on. Although quite knackered I was pleased that I had made the effort. It was pretty and I was, by far,the oldest person on that climb at that time.
By the time I had climbed back down the mountain, drank a couple of bottles of water, and returning to the bike, the clouds were looking very heavy, dark and close. Not wanted to put on the wet weather gear, I opted to just head out. I managed the 1 km back to the main road when the clouds decided to let loose. I took refuge it a bus shelter to wait it out.
It rained heavily for a good one and a half hours before I was free to continue my ride. 10 minutes down the road it hadn't rained at at all. Such is the nature of these storms. I pushed on to Segamat for a much needed rest for the night.
Monday 21st November 2016
Segamat was not all that exciting, and I had to park my bike out in the street chained to a railing as the hotel had no parking. Plus the fact I couldn't stick around. I had decided that my only recourse in regard to India, was to fly to Phnom Penh and apply for the visa there. It wouldn't be a long ride, so I was determined to take it steady and just enjoy. Enjoy I did. The trip was through rolling hills and over mountain passes still covered in rain forest. The roads were perfect and pretty deserted. Even the weather was kind. I could have turned around and enjoyed it all for a second time. Bit sad when I reached KL and all it's traffic. However, I had to be in KL to visit the IVAC one more time. You see, in their rush to push me out the door, they and I, had neglected to remove my USB stick from the computer. That stick had all the saved documents stored on it that I needed for the trip, had to get it back. Arriving in KL I headed toward Chow Chit thinking to stay at the same hotel as before. Pulled up in some shade and proceeded to make the booking. It's normally cheaper to book through a site than at the hotel. But it was not there, on the site that is. I found a hotel closer to the IVAC office, slightly more expensive but twice as good in the other China town of KL, came complete with underground parking and buffet breakfast. From here I could walk to the IVAC. Did all the "checking in" thing and walked down to the visa office. It was late in the day, but they were still open and the place was free of visa seekers. There at the back a clerk was sitting behind the very computer in which I had left my USB. After telling him of my plight he searched the desk to no avail and had just gone to ask any of the other staff, when I looked down to the tower and saw that my USB was still inserted in the dock. Relief. I left as quickly as possible. I didn't like that place one bit. Back at the hotel I looked into getting a flight to Phnom Penh. Couldn't get one till Wednesday afternoon at 3:10pm. I was hoping for Tuesday. With a 3 day turn around from lodging my application to getting my visa (hopefully), it would mean a weekend in Cambodia, so at least a 5 day wait. OK I would still be back in KL by the end of the month when my permit for Thailand was promised. Also hotels were cheaper in Phnom Penh. I relaxed after all that, I had tomorrow to make other decisions. Eddy was back from his regular weekend sojourn to his home and family in Singapore and had given me a call to invite to dinner the next night, so the delay in the flight was OK.
Tuesday 22nd November 2016
One thing I had to do today was to figure out what to do with the bike and the luggage I couldn't take on the flight. I wish I had been a lot more frugal with the amount of gear I had brought with me. I had texted Eddy thinking he may have some options but he was in meetings and couldn't get back to me. In the meantime, as this was a pretty up market joint, I asked the desk if they could store the luggage, 3 bags of it. They agreed as long as I booked a room on my return. I checked with the guy down on the parking floor if I could leave the bike. He agreed as long as I paid the regular 3 ringgit a day which non hotel guests have to pay. I could park it next to his counter and he would keep an eye on it. With that organised I gathered together all my dirty clothes which had all been rotated for at least 3 days wear each. My jeans hadn't had a wash since Surabaya, and headed for the self laundry I had found just up the road. In all my years I had never had an occasion to partake in this pastime. Quite fun really. One and a half hours and for $8.00 later my clothes were all lovely again. Nice. I sorted out what I was leaving behind, could have been a lot more, but I needed another bag. Therw was a very large flea market just down the road. I walked the length and breadth  of the market and checked every bag shop. No one had one of those simple, cheap and large carry bag thingos. I had just about given up when I walked into an adjacent mall and talked to a lady in yet another bag shop. I eventually got my message across and she ferreted around in the corner of the shop and produced just what I was looking for. Joy at last. I picked up a roll a wide tape on the way back to the hotel. I was going to have to tape the bags up as none of them had locks on them.
Eddy would not get to pick me up till seven so there was still enough time to do a bit of a catch up on the internet, and get back to Chantal and thank her for her guidance. Eddy managed to arrive a bit early. He had decided we should go to the Hard Rock Cafe. So we did. These places are way above my pay scale, so it was probably only my second excursion into this iconic realm. We had a fine feast and some nice cold beers interspersed with interesting conversation, to me anyway, before Eddy, who had had a bloody tiring day, drove me back to the hotel. A generous, kind and gracious host.
Wednesday 23rd November 2016
Having got over the habit of being woken a 4 in the morning I managed to sleep in a bit. All I had to do today was get my gear stowed, take a few bits off the bike and get to the airport to catch the plane. I opted to get to the airport by train, This entailed walking about half an hour to KL Sentral. Plenty of time, so I left the hotel at 11:40. It wasn't long before I wished I had left more behind. It was the middle of the day hot and humid. I afforded myself several rest stops along the way and had to retrace my steps several times when the footpath merged with a freeway. Good old google directions was at it again. When I finally achieved my destination I encountered the bus staation before I got to the train station and with a bus all ready to depart for KLIA 2 terminal I gave the train a miss and brought a ticket for the bus. I was a 35 minute trip, so time was gradually slipping away. Eventually found the check in, only to find that I hadn't elected for the baggage fee in my booking and had to pay at the check in. The worst part of this was that she couldn't give me a receipt, I had to go to another service desk to get my receipt. Here I stood in line for 25 minutes becoming a little anxious. When I did get my receipt I impertinently asked why the girl at the check in couldn't have given me a receipt. "She is not connected to the printer". My reply" Why don't you give her one". Bloody hell. Now if you have ever been to KL airport you will know it is one of the biggest terminals in the world. This means it's a long long walk to get to the boarding area. I thing my plane was at the furthest extremity of the terminal and it took an eternity to reach. Needless to say I was the last to board and had it not been for a passenger's luggage not being  accounted for. I would have missed the flight. It was only a 2 hour flight, had it been longer I probably would have to have gagged the American woman in front of me having a cross aisle conversation, more a mind numbing account. of her recent boring life. However, we landed safely without me having any charges brought against me.