I immediately noticed a change upon arriving is Sumatra. Mainly that there was less traffic. The ferry journey had been comfortable as I spent most of it in the air conditioned section, extra cost of a dollar, in a light sleep. On embarking I rode on for a couple of hours to Banda Lampung to stop for the night. Initially I was, due to time restraints, going to ride along the north east of Sumarta, however, I figured I had a bit of time up my sleeve due to the reduced time spent on the way to Jakarta. So it was that I elected to take the more scenic route along the south western coast. Seemed like a good idea. The next day,Wednesday, I was headed toward Padang. All was well I was enjoying the ride, the bike, apart from the front brake, which I was avoiding using, was going well. That was until I hit the hills that lead over to the coast. The road became increasingly less friendly and then when I descended to the coast became decidedly hostile. This was mainly due to the fact that they were upgrading the road for about 50 kms. If I haven't mentioned before they do upgrades a little differently in this part of the world. No diversion roads, no stop/go men, no nothing. The traffic both ways just has to manage as best they can. This means the road is turned into a construction site with its accompanying mud and large rocks and huge holes and impossible passing either way. It just went on an on. Not that they were working on it along the whole length just here and there. At one point I had to negotiate a long section which was probably 30cm of deep mud. I paused and watched as several before me came to grief and were covered in crap. On my overloaded largish bike I was unsure of my success especially with my very limited experience in the mud over such a distance. No option but to go for it. As it happened a bus went past me and with no hesitation at all just pushed on through. This was good as I allowed me a bit of a shallower track to follow. I made it through without putting my feet down. My boots and the bike still managed to get severely covered in mud.
Some few kilometers along the coast I found a spot to pull up have a break and check google to see if there was any accommodation a bit further up the road.
As often seems to happen a couple of guys in a van pulled up to see if I was OK. I asked them as to the availability of a nearby hotel. That was not an option with the lack of traffic in these parts. however, he did have a friend who ran a Lodesman about 20 kms up the road. He called him on the phone to enquire if he had a room and he did. So this was good. What wasn't good was that he charged $25 for the worse room I have ever stayed in. This he was able to do because apparently it was a good surfing spot and as he explained to me that the fee did include 3 meals a day. I was there with no where to go so that was that. I meet a German fellow on hols from his internship in Sri Lanka and a French dude and his daughter, Both here on a surfing holiday. While I was there, and unfortunately for them, there was no surf. I did manage to buy a beer for which I was suppose to pay 4 bucks but when it came morning and I had to pay for the nights acco I completely forgot to remind the lady of the establishment about the beer. The joys of an ageing brain.
Luckily I wasn't raining that morning so it was a good day for a ride, which it pretty much all I seemed to be doing. Glad I like it, most of the time. It was a nice cruise along the coast with the road often meeting up with the seaboard. sometimes a bit too close with parts of the road recently been taken out by heavy seas. In some areas extensive sea walls have been constructed to protect the land.
I reached Bengkulu in daylight and booked into what I think was the only hotel in town after talking to the local cop on the side of the road who must have noticed I looked lost. Big old place with large rooms and painted lime green. The room painted in bold pink. Painted houses seem to be the go. Doesn't matter how well the colours go together as long as they are bright. Had dinner in a nice small cafe along the road which was the cleanest one I had eaten in for some time. The girls there were good fun and I had to have my photo taken with all of them. No one ever wants to take my photo in Australia Over here it happens several times a day…..strange. Perhaps I'm an oddity. The strangest comment I get is that I must be strong. Cant figure that one either. the people are always good to me, always happy and smiling, perhaps I am a bit of a joke. who cares. That night it rained heavily and was still at it come morning. I put my departure off a while in the hope it might desist, no such luck. All geared up it was off to Padang. traffic was increasing especially trucks carting Palm oil or sugar cones to the mill. Whilst parts of the road can be good conditions can change very suddenly. Somewhere along this road a bus had decided it needed the road more than I and I was forced off the tar and into the gravel. such fun. Near misses seem to be a national sport on Indonesian roads. Gives them something to talk about. I have also become used to slowing now considerably at bridge approaches not only due to the considerable gap between road and bridge but also the incline up to the bridge and then the flat deck of the bridge can send you skywards. I have also learnt that you dont dare take your eyes off the road for a second and thats not an exaggeration. If ever I do I am bound to hit a pot hole or some oncoming traffic on my side of the road. Tends to reduce your enjoyment of the countryside somewhat.
The ride to Padang was wet to start but only lasted a couple of hours. I made pretty got time. Around 5:30pm found me parked on the side of the road trying to book a hotel on the agoda app. I booked a hotel and then when it came to finalising the booking it just didn't go anywhere just stalled for a good five minutes. I kept getting darker and started to sprinkle. I'm thinking why me why now. So I aborted selected another hotel but didn't book it just rode there via a very curious route. Got settled, had a shower, went out and had some dinner, and then I get an email from agoda to say that my booking has been confirmed. Guess who's not using the Agoda app again. I have used Agoda a lot over the years and it has normally been good. On this trip, however, I haven't been able to book ahead until I am almost at my destination, mainly because I never know it I will get there, what with roads, traffic and weather. The unfortunate thing with Agoda is that they have a cancellation policy which says that if you don't cancel your booking at least 24 hours beforehand your still get charged. That's a little be hard in my situation and normally because I am there already I wouldn't have to cancel. Anyway they are looking into it. Booking.com has a system which allows you to pay when you arrive at the hotel. Makes sense to me. Some you win some you don't. Padang was not what I imagined it to be. It pretty much is centered around the exporting or importing of oil. So lots of storage tanks, heavy trucks and heaps of pollution. Not that I saw a lot of Padang. What I did see was squalor. Wish I had had time to explore it more.
Having had previous experience of the roads further along the coast discretion rule and I decided to turn toward the north. This proved to be a very enjoyable days ride. Lots of hills and curves, beautiful scenery and no rain. Plus I encountered this amazing 9 curve infrastructure to overcome what must have been a very hairy road up a very steep gorge.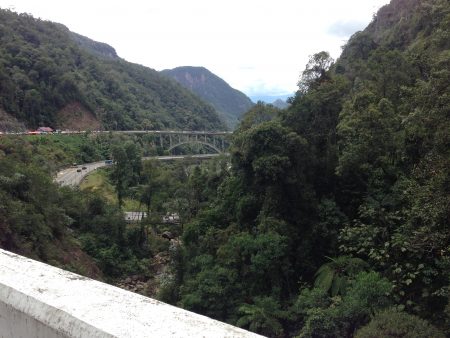 The next few days were pretty much riding along reasonable roads flanked by palm oil plantations. This also meant lots of trucks carrying palm cones to the refinery belching out black exhaust fumes. sometimes you think you are riding through this corridor of fumes. I was starting to have problems with one eye and despite efforts in several towns along the way could not find any suitable doctor to check it out. Having reached ==== I checked into the Sayura Hotel where I was warmly greeted by the manager. I had some drops from at Apotik and because I needed some off time,off the bike that is, I called a lay day to catch up on Laundry, social media, blog etc, and try to improve the eye. Most of the towns along this road are pretty dirty, at least the main road bit. They all insist on conducted their produce markets along the main streets, normally just marginally 2 lanes wide, which causes massive traffic disruption with mini buses and trikes all over the place and stopping wherever they please. Even the stalls seem to impinge onto the roadway. When you add to this the rain and resulting mud and potholed roadway the whole scene is one big bloody slow moving and smelly mess. The bigger the town the longer the delay caused. So even though the roads can sometimes be cruised at a reasonable rate ie. 50/60kph, everything else reduces this down to around 25kph. Needless to say trying to negotiate these towns at snail pace leaves you exasperated and overheated. Why there isn't a different location I really can't figure. Guess the locals are just used to it. The concept of any food coming out of these markets and ending up on your dinner plate doesn't bear thinking about.
Having had my days rest and clean clothes to wear.(i don't think my jeans had been washed since Sumbaya) it was on to  Medan.
Thursday 4th November 2016
Made it. It's been a long and gruelling ride through Indonesia. Got here early and after the usual stuff ups with booking and google maps idea of where places are, I stumbled across the right place. Settled in Went out and had anic feed of barbecued prawns and garlic broccoli. TV and the sack
Friday rode on to Belawan. I had luckily been able to contact Josh and his partner who had crossed to Malaysia a few weeks ago and he had graciously forwarded me the contact details on the shipping company and the phone number of Mr Adnan to contact. No knowing Belawan I just rode down to the dock area and pulled up inside some particular area. There are these archway above the road which  tells you what you are entering, which would be handy if I knew Indonesian. I don't. As happens, a security guard approached, to enquiry what I was looking for, so I showed him Josh's email. He know Mr Adnan and called him. He would come shortly. In the meantime of further discussion with the Security guard I found that he also knew Josh. Someone is being kind to me. Mr Adnan arrived and let me know the the ship did not leave until Tuesday and that I should meet with him at the same spot on Monday morning to make finally arrangements  and pay the 2 million rupiah fee. I would then have to go to Medan to catch the plane to Pedang.
He suggested that instead of returning to Medan I should ride out to Bukit Lawang, 106kms away and supposedly 3 and a half hours away. The time estimate was about 2 hours out. The road, or parts of it, overall, were some of the worst I had experienced so far, as the journey ended up being 6 hours. At times I was tempted to turn around, however, I would not have had enough time to get back to Medan before dark. The bike and I did very well and on coming to what seemed like to end of the road was met by a guy from the inn that I had booked. Another few kilometers off in another direction I was guided into a house come garage beside the road. I was thinking "well this isn't like the photos on the booking site". Happily this was not the inn, that was a ten minute walk away. No one had told me about that bit. A porter doned my bags and off we walked. This is quite a magical place with small and large guest houses lining the river bank and nestled up against the jungle. All built without any building permits. Everything, mostly was neat and tidy, a proper eco tourist haven. The area boasts rafting an jungle trekking, orangutang chasing and similar touristy things. All designed to make the tourist feels they are having this unique experience and extract as much money from their wallets as they can. I know this sounds a bit jaded and I know lots of people would not agree especially those to go there. I'm sure they love it and their adventures will be shared will all their friends for months. I did like lots of the building though. Bit like a hobbit town. Lots of unique designs using all manner of local resources to give the right flavour. In a way I was lucky it was off or rainy season and not a lot of guests to be seen. I doubled the number of white people I had seen since arriving in Java in the first half hour.
There were a few couples staying in the same inn as I. Not one of them even bothered to say hello, Funny thing that. I have had all manner of Indonesian strangers yelling out to me and coming over to chat with me, taking photos of me and with me. Not this lot of, I presume, city dwellers, Their loss, they could have had an even bigger story to tell. The food was good and the room large. The shower cold and the extras non existent. No water or toilet tissue, soap or shampoo. I know this to be the norma and part of the deal, except on the previous night, in Medan, I had stayed in a "luxury" residence with all the aforementioned bits plus air con and wifi for, by the time a had paid the porter and the bike parking, the same amount of money. So tourist traps are called tourist traps for a reason.
Saturday 5th November 2916
It rained heavy overnight and by the time I had been for a walk and had breakfast the rain had stopped but the sky wasn't looking all the positive. I'd seen as much as I wanted of Bukit Lawang  and decided to return to Medan.  I knew how long it woud take to get back to Belawan from there and I had to meet Mr Ahnan at 9 am Monday morning  So after paying the porter and the man at the bike parking I embarked on the torturous ride back to Medan. Fortunately, most of the road was not as bad as that which I traversed from Belawan but still bad enough. Medan is not a fun city for bikers and google maps doesn't help by directing one to  hotels that are not where they are supposed to be. I spent a torturous hour riding around in circles looking for the hotel. My persona must not have done anything for the desk clerk as I was given a room on the 4th floor, no lift, and directly facing the grand mosque of Medan. the bigger the Mosque the larger and more numerous the loud speakers. That would have been enough, except at 9pm the rock band in the adjacent car park started up. So a late night and a very early morning wake up call.
Sunday 6th November 2016
I tried to go back to sleep but as ever the mind starts thinking of all the things I have to not forget. I spent the day catching up on stuff. I say stuff as it includes washing, getting money from atms, blogging, forward planning, bike checking, finding food I can eat, personal maintenance and miscellaneous other things, Problem with not going on a package tour where someone else organises everything for you and can answer all the questions about this and that, This way definitely keeps the brain working although not always correctly. I think mine has run out of  RAM and the hard drive is full. I shared my evening meal in a sort of food hall with a mob of guys who had set up a huge slot car track with three lanes where they raced each other. The winner of each race, which usually turned out to be the one still on the track, would go into the next round where the speed via electric current would be increased, These cars went so fast you couldn't follow them, amazing. Tried to watch a movie with the rock band at it outside. Didn't work, at least the were singing in English. Finally turned off the tele and buried my head in the pillow.
Monday 7th November 2016
This turned into a long day. Took off through the traffic in light rain. This meant I had to don my wet weather gear with the result I was a lather of sweat within a few minutes as I crawled through the traffic made worse by large puddles of water stretching across the roadway and bikers trying to avoid them by going around. Seem to have a problem with proper drainage of all forms. Like I'm sure they don't know what a P-trap is all about. Having extricated myself from Medan it was a fairly cruisey ride to Medan where I arrived shortly after 9:30am . Mr Adnan was quickly on the spot after a phone call from me and promptly asked for his 2 milion rupiah to get things rolling. Then started the process of photocopying garnets and passport. Into this office and that office, Charging along narrow road and laneways lined with mud, puddles and all manner of crap. Out to the customs boys who checked the bike and the contents of everything, then back to the agent who asked for another 2 million to which I refused as this was to pay for the transport, unloading of the bike and port fees in Penang, So to at least have some leverage as to my bike arriving in Penang I insisted I pay that to the agent in Penang. It didn't go over well. However, we were out of there and headed for the docks where I would apprehensively leave my bike in the warehouse surrounded by dock workers, all of whom resembled hardened criminals, until it was loaded on the vegetable boat the next day as deck cargo.